Anne Springs Close Greenway Breaks Ground on Crandall Bowles Children's Farm
New Flagship Destination for Daily Visitors and School Groups Set to Open Late Summer 2022
On Saturday, April 23, the Anne Springs Close Greenway (ASCG) Board of Managers gathered at the ASCG stables entrance along with staff, members of the Close family and other special guests to break ground on the Greenway's newest amenity, the 18-acre Crandall Bowles Children's Farm.
ASCG's existing petting zoo will combine with the new children's farm to include pastoral habitat and observation areas for ducks and farm birds, rabbits, alpacas, horses and other barn animals. A new ADA-accessible loop trail (half-mile), as well as an interpretive exhibit hall, gathering lawn, educational garden, open-air learning center, expanded restroom facilities and more features will provide space to facilitate daily interpretation and demonstrations for guests on a wide range of topics. The new children's farm represents a large capital investment and fundraising for the project is ongoing.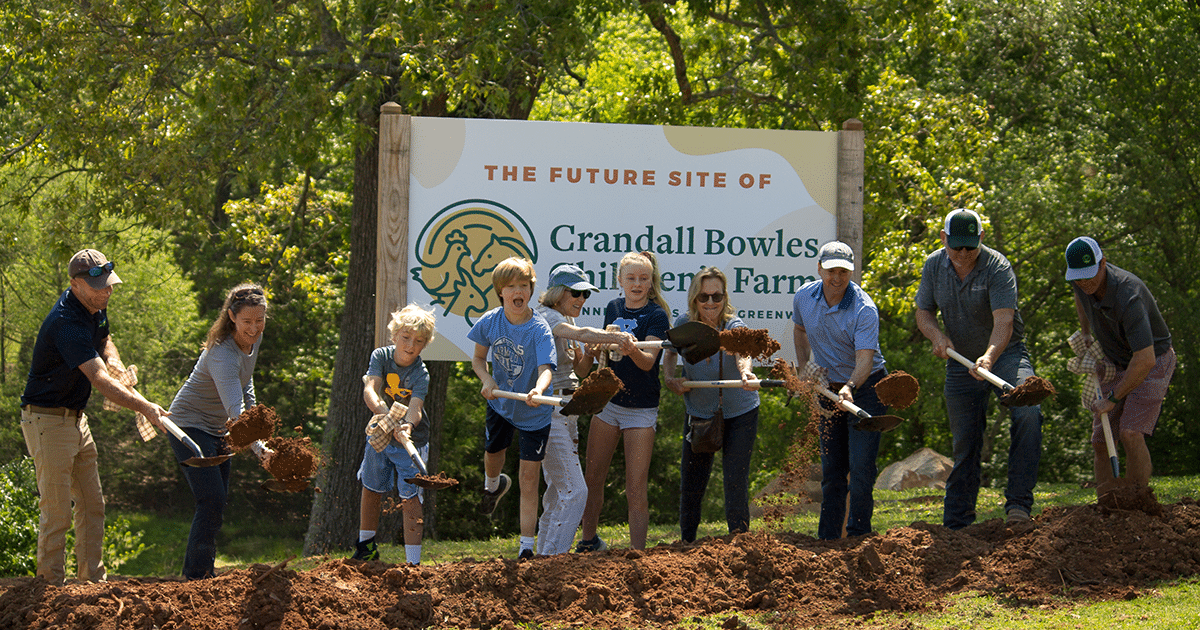 Named in honor of Anne Springs Close's daughter and former CEO of Springs Industries, Crandall Close Bowles, the new children's farm was envisioned by Anne and Crandall. Anne wanted to name it in honor of her eldest child, who has spearheaded the expansion of the farm to make their dream a reality.
"The Crandall Bowles Children's Farm will become a new flagship destination for daily visitors and school groups, greatly expanding our opportunities for natural learning," said John Gordon, President and CEO of Leroy Springs & Company, Inc. which operates ASCG. "Our incredible staff stands ready to help steward this special place for another generation to enjoy, providing an introduction to farm life for visitors of all ages and backgrounds."
The ASCG stables entrance lies at the end of Horse Road adjacent to Highway 160, providing a buffer of serene natural beauty filled with orchards, pastures and unique charm of historical farm buildings. The stables, home to ASCG barn and equestrian operations, existed long before the official opening of the nature preserve in 1995. Also adjacent to the historic White Homestead where Anne Springs Close spent her childhood, the farm and equestrian program she established there were a lifelong passion and thrived under her watchful care.
ASCG currently offers a wide variety of fieldtrips for all elementary grade levels, providing core-complementary support for the curriculum and themes taught in the classroom. Fieldtrips are hands-on, interactive and meet curriculum standards for each grade. Prior to the pandemic, ASCG averaged 16,000+ participants annually in its outdoor education programs. This year, more than 5,000 students will have participated in programs by mid-year. The children's farm will add to the opportunity for education and enjoyment, enriching the experiences that staff and local educators can offer students through hands-on learning opportunities.
For questions, please call 803-547-4575 or visit ASCGreenway.org for a full calendar of events and programs.
About the Anne Springs Close Greenway
Since 1995, the Anne Springs Close Greenway has provided a place for the community to enjoy a variety of outdoor activities from fishing, hiking, mountain biking and horseback riding to picnics, kayaking and more. The 2,100 acre nature preserve located in Fort Mill, SC is open daily from 7:00a.m. to sunset for outdoor recreation enthusiasts and nature lovers to use its 40+ miles of trails. The Anne Springs Close Greenway is owned and operated by Leroy Springs & Company, a 501(c)3 organization that receives no government funding for its ongoing operations and programs. The Greenway relies on revenues from its endowment, membership and program fees, and private contributions from individuals, community and corporate partners, and other donors to fund operations and capital needs.