Anne Springs Close Greenway Celebrates "Love the Greenway Month" with Virtual Activities and Programs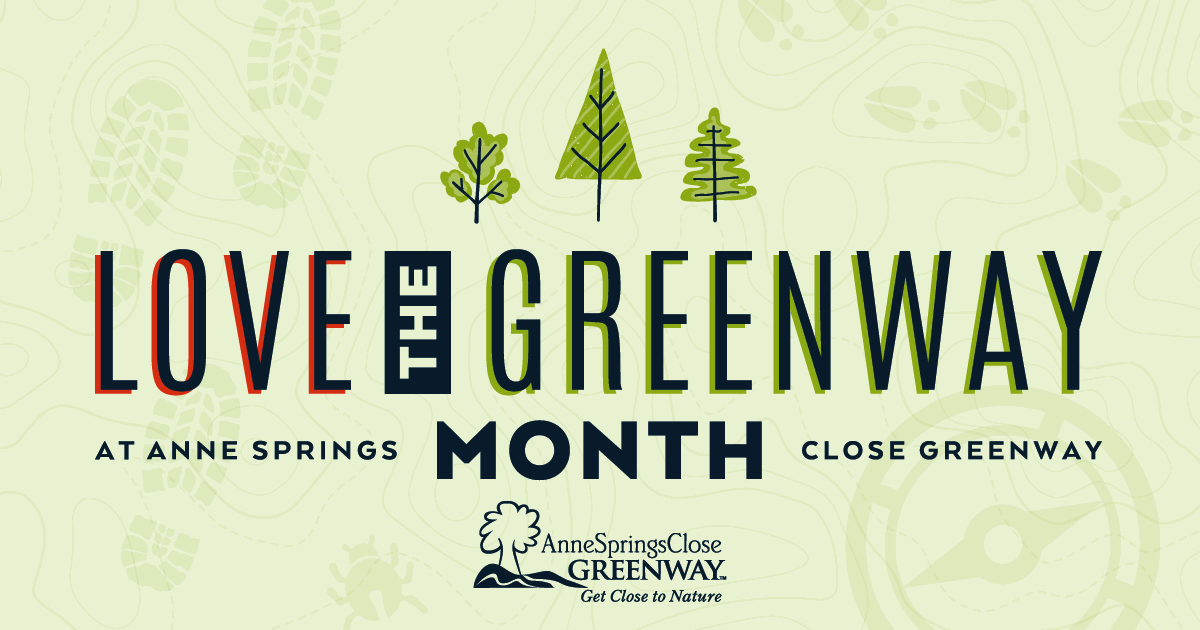 The Anne Springs Close Greenway recently announced its fourth annual "Love the Greenway Month" awareness and fundraising campaign during the month of September. Typically scheduled for April, this year's festivities have gone virtual and will also highlight the nature preserve's 25th anniversary year. Members and visitors alike can celebrate the Greenway in a socially distanced way and look for fun, new ways to Choose Your Own Adventure on the Greenway with self-guided activities, virtual demos, animal encounters, guided hikes, a video message from Greenway founder and namesake Anne Close and more planned for the month. The Greenway also unveiled its new annual roadside signage campaign, inspired this year by what members say they love most about the Greenway. Other campaign signage has been placed throughout the Greenway at popular points of interest as a part of virtual passport activities encouraging everyone to Get Your Selfie Outside® and enjoy the 2,100-acre nature preserve and recreational park located in Fort Mill, SC.
The Greenway is one of our community's most beloved and valuable natural resources that greatly enhances our quality of life through its myriad educational and recreational programs and activities. We encourage area residents to participate in our Love the Greenway Month activities and support the Greenway through their memberships, volunteer contributions and financial donations."

– Darrell Williams, chair, Anne Springs Close Greenway Board of Managers
This year's campaign will not feature its signature family-oriented special events such as the Greenway's annual Earth Day Celebration and other festivities. However, this year more than ever, the Greenway has proven itself to be an essential community resource, providing a space for people to recreate and celebrate nature in a myriad of ways from hiking and biking, to dog walking, horseback riding and picnics.
Ways to Support the Greenway
The Anne Springs Close Greenway is a non-profit
501(c)(3) organization, which receives no tax dollars to improve, maintain or operate its facilities and programs. It is funded primarily by memberships, program fees and donations from individuals and corporations who support its mission "to connect people to nature through recreational and educational activities while fostering a passion for environmental conservation, animal habitat, and protection of natural resources."
Become a Member
Join the Greenway and gain access to all the things that make the Anne Springs Close Greenway such a treasure. Celebrating its 25th year of connecting people to nature through education, recreation and conservation, the Greenway provides members with year-round access to 2,100 acres complete with 36 miles of trails for hiking, mountain biking and horseback riding. Other Greenway amenities include the Greenway Gateway Welcome Center & Gateway Canteen, historic cabins, along with pastoral landscapes, lakes, swinging bridges and other facilities that make the Greenway a special place to visit.
Please visit the Greenway website for more information and directions. The Greenway is currently open to the general public Monday through Thursday and to Greenway members only Friday through Sunday in order to prevent overcrowding and encourage social distancing.
Choose Your Own Adventure Passport & 25th Anniversary Hiking Challenge
Check out the new Choose Your Own Adventure passport, pick up a Greenway Trail Passport and take the 25th Anniversary Hiking Challenge, enjoy one of many guided hikes, kayak programs and animal encounters, or just revel in the beauty of 2,100 acres of protected green space.
Get Your Selfie Outside® Photo Contest
Sponsored by the Anne Springs Close Greenway Photography Club, Greenway visitors are invited to share their best photos and win great prizes during the Get Your Selfie Outside®Photo Contest in September. Submissions may be emailed to Info@ASCGreenway.org or tagged on Facebook or Instagram, @ASCGreenway and #GetYourSelfieOutside.
Support the $25 for 25 Campaign
With a $25 donation to celebrate 25 years of the Greenway, our members have the potential to raise $300,000. Yes, that's correct, if each Greenway family donated $25 they could make a lasting impact on the Greenway during this 25th anniversary year!
About the Anne Springs Close Greenway
The Anne Springs Close Greenway provides a place for the community to enjoy a variety of outdoor activities from fishing, hiking, mountain biking and horseback riding to picnics, kayaking and more. The 2,100-acre nature preserve located in Fort Mill, SC is open daily from 7 a.m. to sunset for outdoor recreation enthusiasts and nature lovers to use its 36 miles of trails. The Anne Springs Close Greenway is owned and operated by Leroy Springs & Company Inc., a 501(c)3 organization that receives no government funding for its ongoing operations and programs. The Greenway relies on revenues from its endowment, membership and program fees, and private contributions from individuals, community and corporate partners, and other donors to fund operations and capital needs.
You can text "Greenway" to 515-55 for updates throughout the month.
Find Us Online