Anne Springs Close Greenway Celebrates Sixth Annual "Love the Greenway Month" this April
The Anne Springs Close Greenway will celebrate its sixth annual "Love the Greenway Month" awareness and membership campaign during the month of April. The nature preserve celebrates its 27th "Earth Day Birthday" with programs and events spread throughout the month to encourage members and visitors to come explore new areas of the 2,100-acre recreational park. Choose Your Own Adventure on the Greenway with self-guided activities, as well as on-site demonstrations, animal encounters, guided hikes, fishing and other programs planned for the month.
"Each year, more and more people look to seek respite in the great outdoors, with over 297,000 people flocking to the beautiful landscape of the Anne Springs Close Greenway last year. We celebrate April is Love the Greenway Month with a renewed appreciation for the land and that it will remain a sanctuary for members and guests for generations to come."

Alex Sullivan, Chair, Anne Springs Close Greenway Board of Managers
The Greenway's annual Earth Day Celebration returns April 22-24 as a full weekend of opportunities to get outside and explore the Anne Springs Close Greenway through various programs and activities including fishing, canoeing, reptile encounters, lead-line horse rides and other festivities. Earth Day weekend is free for members and visitor fees are waived for non-members ($5 per car for non-members). Come see what makes the Anne Springs Close Greenway a celebrated community resource, providing a space for people to recreate and celebrate nature in a myriad of ways.
Earth Day Calendar of Events – April 22-24:
Recycled Art Competition
Adopt-A-Stream Clean Up & Litter Patrol with Town of Fort Mill
Get to Know the Greenway Tours (registration required)
Kayak Rentals (registration required)
Lead-Line Horse Rides & Farm Animals
Animal Encounters, Canoeing and Fishing Clinics
Equestrian Demos
Border Collie Demos
Guided Hikes & Camping Demos
Earth Day Group Campout (registration required)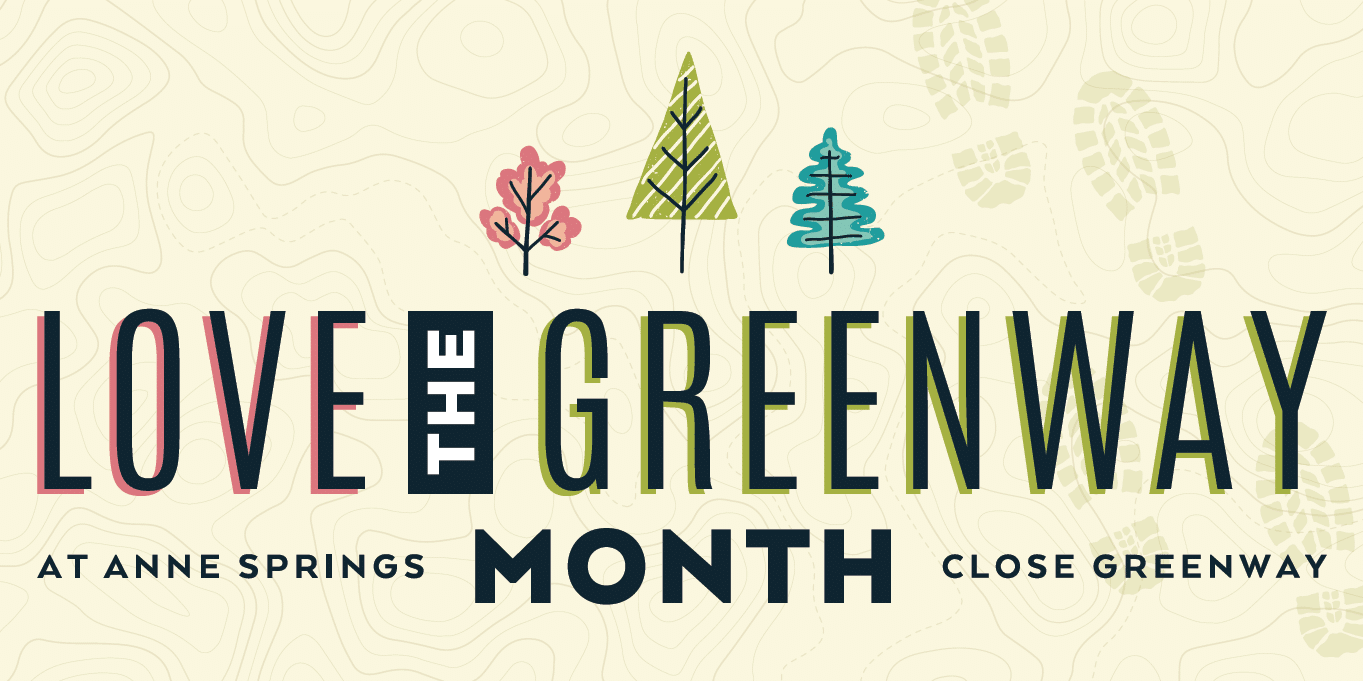 Choose Your Own Adventure
Pick up a Love the Greenway Month passport that will help you explore each entrance and activities on the Greenway. Enjoy one of our many guided hikes, kayak programs and animal encounters, or just revel in the beauty of our protected green space. Users are encouraged to pick up a trail map and passport to help them explore various Greenway trails and points of interest. Stop by the Greenway Gateway for more details.
Get Your Selfie Outside® Photo Contest
If you love taking pictures at the Anne Springs Close Greenway, share your love by submitting an image to the Love the Greenway Month photo contest sponsored by Piedmont Medical Center- Fort Mill. The Greenway invites all amateur photographers to capture and share their love for the Greenway in the annual contest. First, Second, Third and People's Choice photos will win prizes! The winning photograph will be displayed in Piedmont Medical Center-Fort Mill, a new hospital facility opening later this year. Find more details about the contest here. Email digital photos in JPG format by April 15 to info@ascgreenway.org.
Become a Member
Join the Greenway and gain access to all the things that make the Anne Springs Close Greenway such a treasure. Celebrating 27 years of connecting people to nature through education, recreation and conservation, the Greenway provides members with year-round access to 2,100 acres complete with 40+ miles of trails for hiking, mountain biking and horseback riding. Other Greenway member benefits include access to the Greenway Gateway Welcome Center & Gateway Canteen, digital guest passes to use with friends and family. Be sure to tour the Greenway's historic cabins, walk along pastoral landscapes, lakes, swinging bridges and other facilities that make the Greenway a special place to visit.
Share the Greenway with your friends! Current members will receive two additional digital guest passes when they refer a friend to join Anne Springs Close Greenway during the month of April. Visit ASCGreenway.org/Join
Please visit the Greenway website for more information and directions. The Greenway is currently open to the general public daily from 7a.m. to sunset.  

Building the Bridge Fund
Support the Anne Springs Close Bridge program during Love the Greenway Month by giving to help to build the bridge to all members in our community by providing educational and recreation scholarships. The Bridge program helps ensure that any financially disadvantaged family or child will be able to access the Greenway to connect with nature and enjoy all of the recreational and educational activities and programs that the Greenway offers. To learn more about the Anne Springs Close Bridge Program click here. To honor the legacy of Anne Spring Close and help connect all to nature, give here today. Since 2018, the Anne Springs Close Bridge Program has served over 1,400 families and provided $645,000 in financial assistance.
About the Anne Springs Close Greenway
The Anne Springs Close Greenway provides a place for the community to enjoy a variety of outdoor activities from fishing, hiking, mountain biking and horseback riding to picnics, kayaking and more. The 2,100-acre nature preserve located in Fort Mill, SC is open daily from 7 a.m. to sunset for outdoor recreation enthusiasts and nature lovers to use its 36 miles of trails. The Anne Springs Close Greenway is owned and operated by Leroy Springs & Company Inc., a 501(c)3 organization that receives no government funding for its ongoing operations and programs. The Greenway relies on revenues from its endowment, membership and program fees, and private contributions from individuals, community and corporate partners, and other donors to fund operations and capital needs.