Domtar Forest Porch Set to Open at Anne Springs Close Greenway
Newest Outdoor Amenity Located at the Lake Haigler Entrance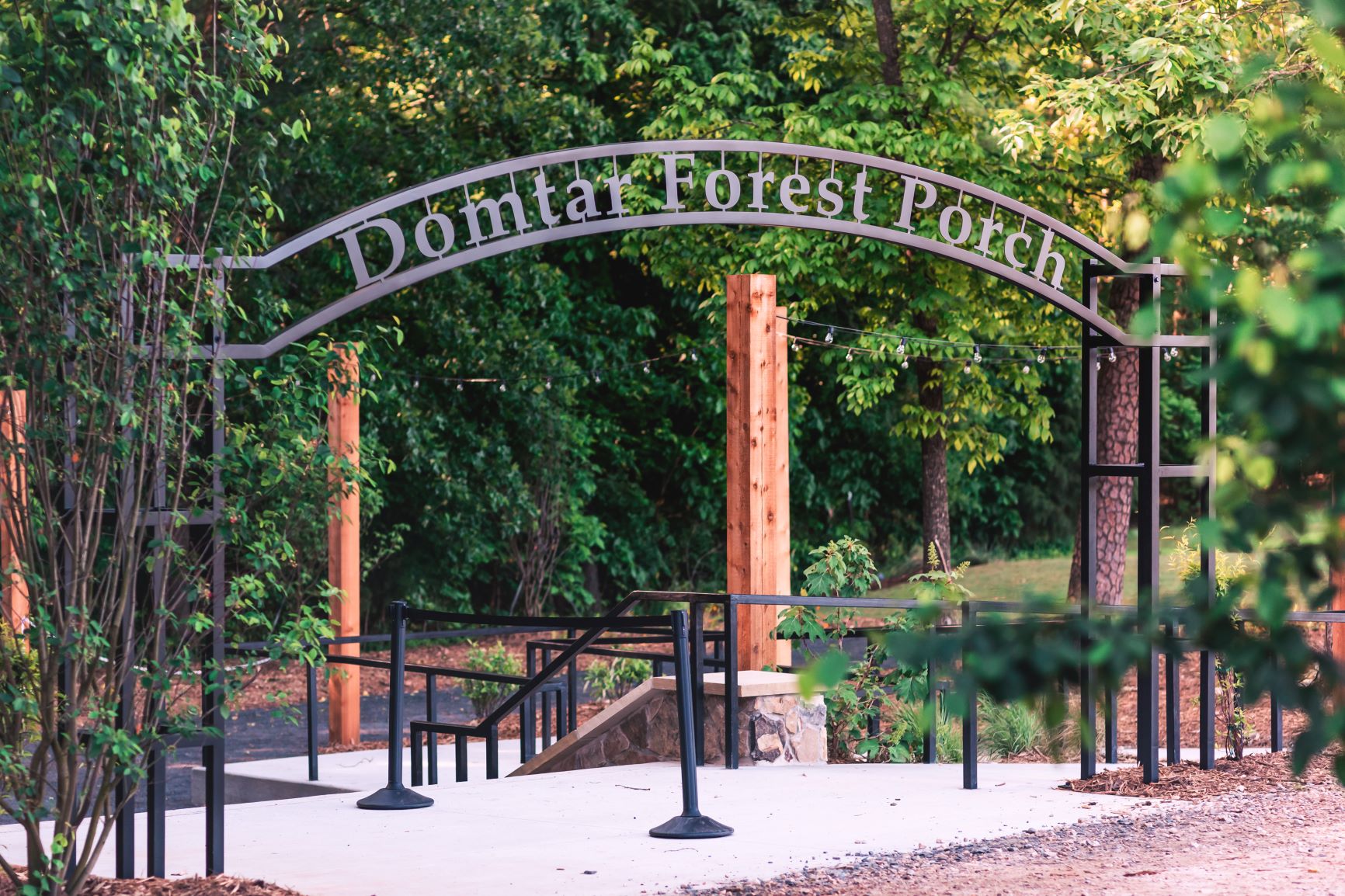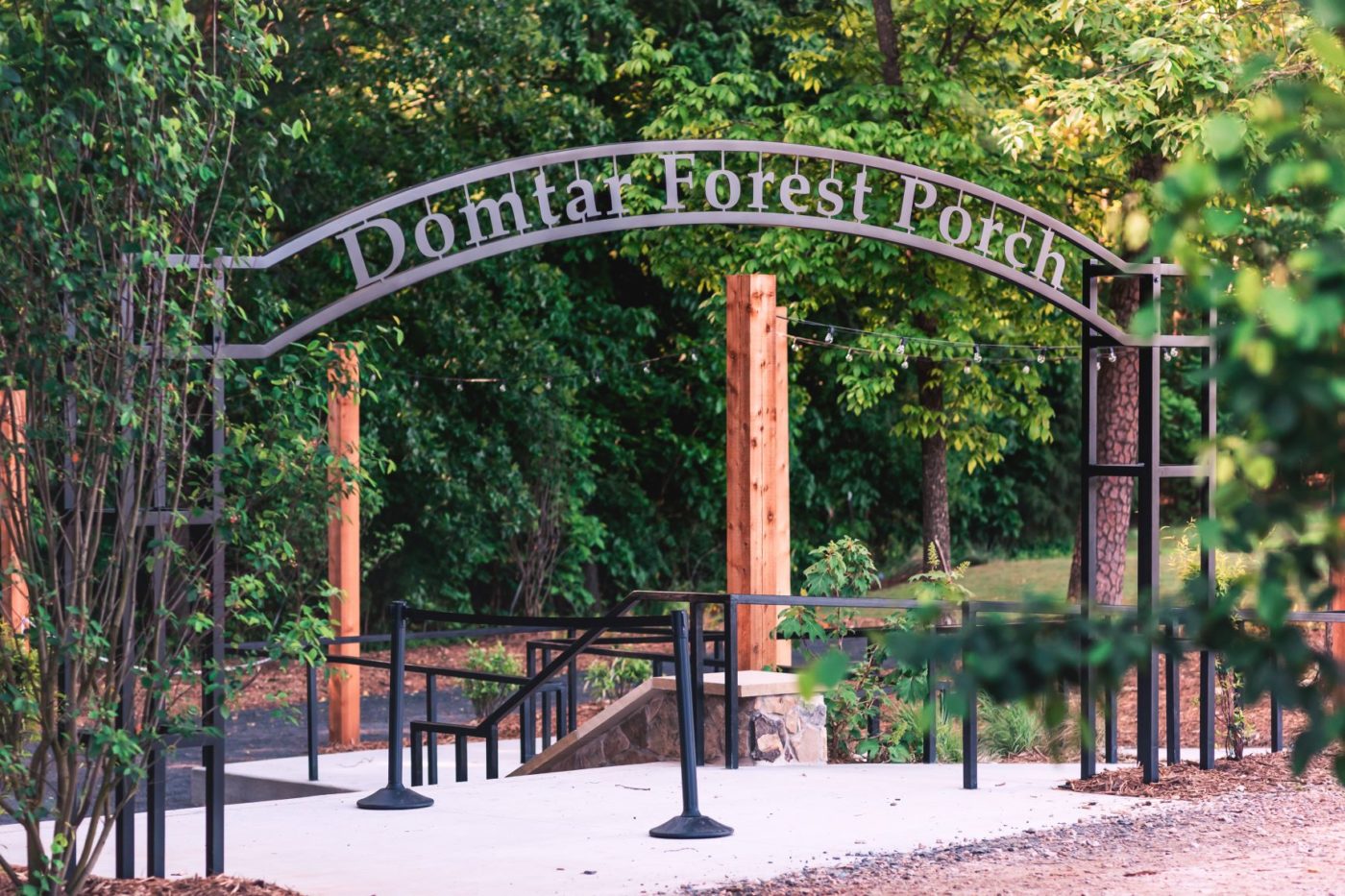 The Anne Springs Close Greenway has recently completed a capital project, the Domtar Forest Porch. The Domtar Forest Porch will serve as an extension of the Greenway Gateway and sits adjacent to the new welcome center that opened last July. This newest Greenway facility is located alongside the historic Nation Ford Road at the Greenway's main entrance off of Highway 21 Bypass and provides additional space for visitors to gather and enjoy the surrounding natural splendor.
The new facility is made possible by a significant gift from Domtar Corporation, the largest integrated manufacturer of uncoated freesheet paper in North America, a leading manufacturer of papergrade, fluff and specialty pulp, and a producer of high-quality and innovative absorbent hygiene products. The company, which operates its corporate headquarters in Fort Mill's Kingsley Office Park, employs close to 10,000 across North America.
"The Forest Porch represents Domtar's commitment to the local community and the legacy of the Anne Springs Close Greenway. Our company's mission to serve as a world-class industry leader while positively impacting our communities is made possible through partnerships like this one, and we are extremely proud to see what this new amenity will bring to our local community", said John D. Williams, President & CEO of Domtar.
"Domtar is a valued corporate partner of the Anne Springs Close Greenway, spanning over many years," said Samantha Kowert, Advancement Director, Anne Springs Close Greenway. "The Forest Porch will provide a space for our community to gather and enjoy nature and elevate the experience we are able to provide on property without diminishing from the incredible natural elements of the land we seek to preserve."
The new Greenway amenity is comprised of a garden platform deck utilizing sustainably harvested wood, along with a stone stream bed, gravel courtyard, rock seat wall and formal event lawn.
Connecting People to Nature
The Anne Springs Close Greenway has become a prime destination for residents of Fort Mill and the surrounding region who want to connect with nature and the rich cultural heritage that is part of this beautiful 2,100-acre nature preserve. The Greenway's extensive educational and recreational programs and special events have attracted rapidly growing numbers of participants in recent years. More than 275,000 people visited the Greenway last year, and it is now supported by over 8,000 member households annually. In addition, more than 23,500 students benefit from its outdoor education programs, and over 5,000 kids are enrolled in summer camps. The Greenway's active volunteer base has grown to more than 1,900 individuals who donate time and talent to support its programs and activities throughout the year.
About the Anne Springs Close Greenway
The Anne Springs Close Greenway provides a place for the community to enjoy a variety of outdoor activities – from fishing, hiking, mountain biking and horseback riding to picnics, kayaking and more. It is open daily from
7 a.m. to sunset for outdoor recreation enthusiasts and nature lovers to use its 36 miles of trails.
The Greenway also offers a myriad of nature-focused educational programs and special events throughout the year. The Comporium Amphitheater hosts a popular live concert series each summer, and other community favorites held on property include the Fall Frolic festival and the Winter Wonderland Holiday Market. Another major Greenway attraction is the member-based Mary Warner Mack Dog Park, which is the region's premier dog park featuring separate play areas for small and large dogs and a large fenced-in natural area with hiking trails and lake access.
The Anne Springs Close Greenway is a not-for-profit organization that receives no government funding for its ongoing operations and programs. It relies on revenues from its endowment, membership and program fees, and private contributions from individuals, community and corporate partners, and other donors to fund operations and capital needs.
Find Us Online