The Event
The Colonel's Club Boil & Brew combines delicious food, craft beer and fall weather for a can't-miss community experience! Don't miss the fun on Oct. 21 from 4-8pm.
In addition to a mouthwatering Lowcountry boil, ticketholders will also enjoy live music by Kris Hitchcock and children's activities, including lawn games and reptile encounters.
Ticket Information
Adult General Admission tickets cost $55, and the Adult, No Alcohol ticket costs $40. Children's tickets for youth ages 5-12 years cost $15, and children ages 4 years and younger are free.
Elevate your experience by purchasing a Brew Trail Experience ticket. The Brew Trail Experience, in partnership with the YoCo Brew Trail, unlocks entrance to the exclusive tasting area, complete with local brewery stations, bonus craft beer options and tasting space with tables. The Brew Trail Experience ticket also includes beer tickets that may be redeemed for three 4-oz sample pours each within the tasting area or a full beer on the Gateway lawn.
This years participating breweries include Amor Artis Brewing, Model A Brewing Co., Replay Brewing, Slow Play Brewing and Lake Wylie Brewing.
Brew Trail Experience
Parking
Admission
Lowcountry boil
Live music
Lawn games
Four beer tickets
Cash bar access (beer/wine)
Exclusive VIP craft beer sampling area
Adult,
21+ Years
Parking
Admission
Lowcountry boil
Live music
Lawn Games
Two beer tickets
Cash bar access (beer/wine)
Adult,
No Alcohol
Parking
Admission
Lowcountry boil
Live music
Lawn games
Child,
5-12 Years
Admission
Lowcountry boil
Or hot dog
Live music
Kids' activities*
*Kids' activities will include reptile encounters, gaga ball, marshmallow roasting and the fall haybale maze.
The Mission
This fundraising event will launch funding for our new youth mountain bike skills track. The track will provide a fun, safe and equitable space for youth and budding off-road cyclists and will include a variety of obstacles to boost confidence and skills on our trails. The park will add to the portfolio of activities available on the Greenway, contributing to a comprehensive and unique outdoor recreation experience.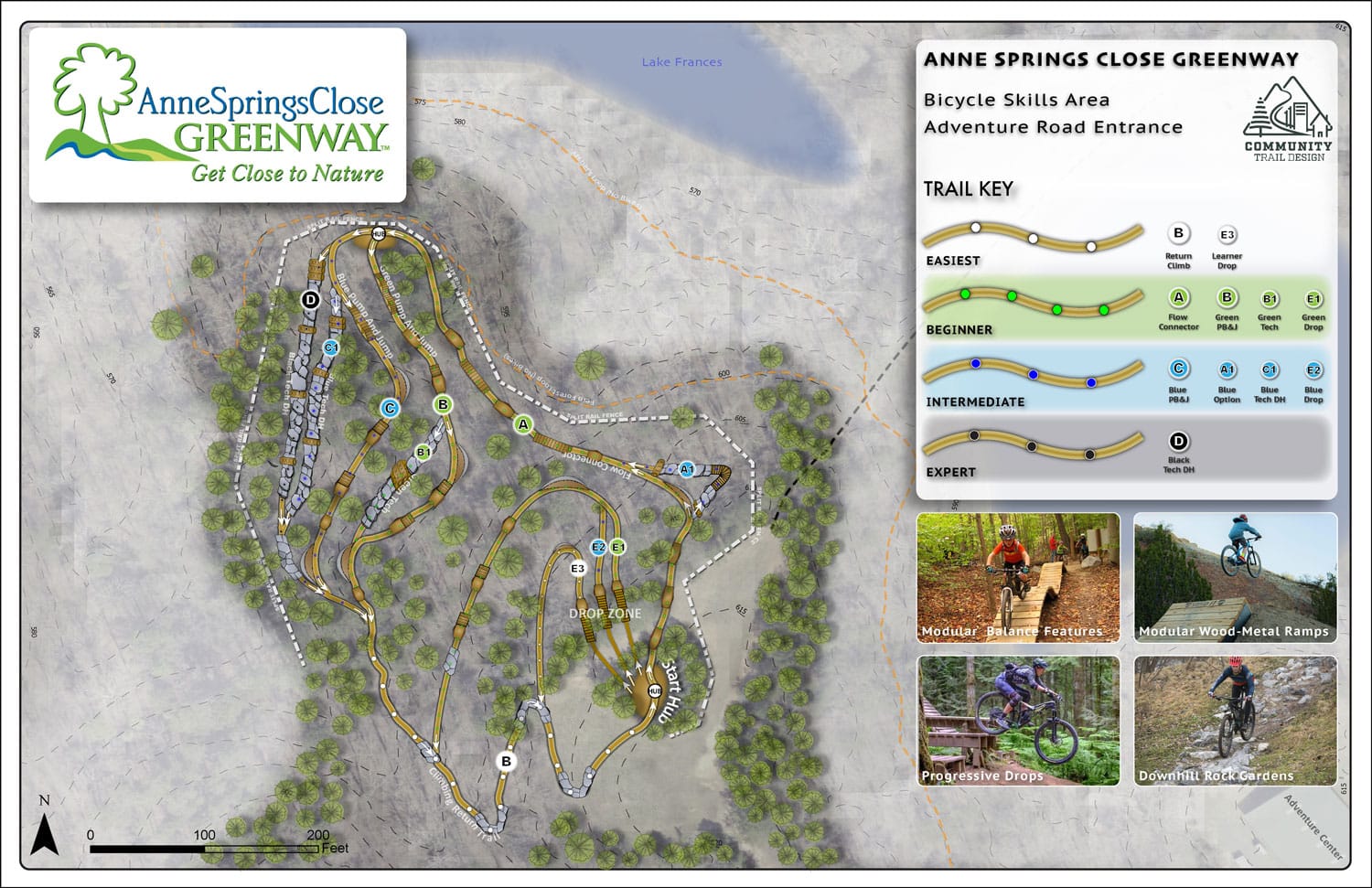 The Club
The Colonel's Club is an Anne Springs Close Greenway donor group rooted in fellowship and fundraising. Learn more about the club.
WHEN:
Sat., Oct. 21
4-8pm
---
WHERE:
Greenway Gateway
2573 Lake Haigler Drive
---
WHAT:
Fundraiser benefiting the new mountain bike skills track
---
TICKETS:
Adult (21+): $55
Adult, No Alcohol: $40
Ages 5-12 Years: $15
Brew Trail Experience: $85
---
On Sale:
Aug. 14: Colonel's Club
Aug. 15: FOG & GLG
Aug. 16: Members
Aug: 17: General Public