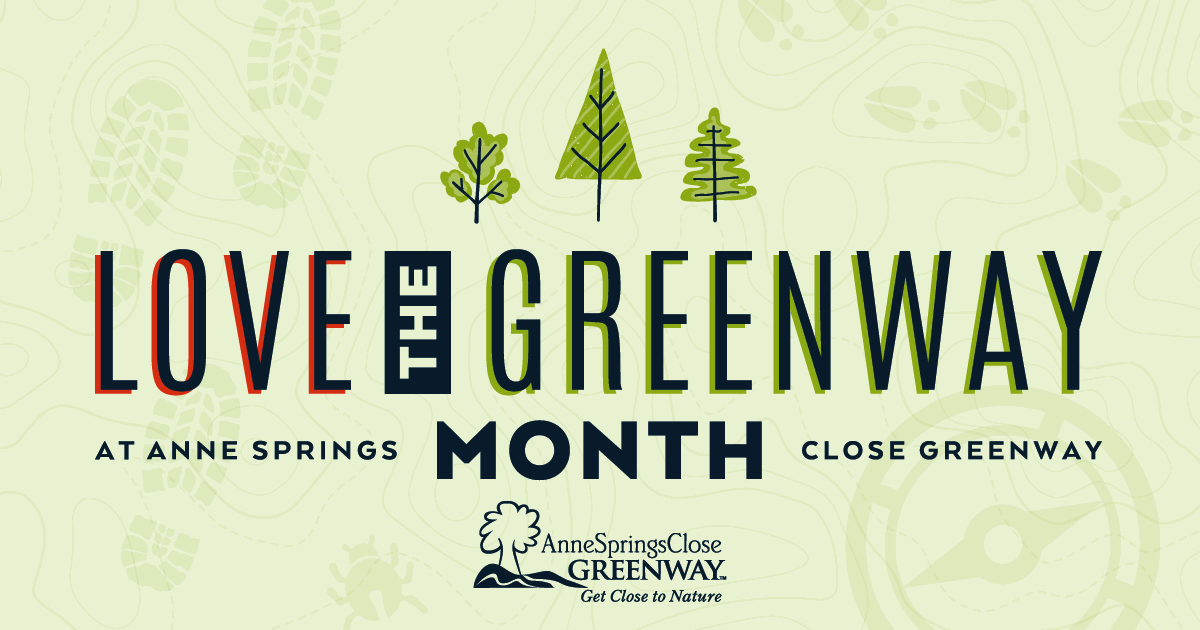 Love the Greenway Month is a time to celebrate the splendor of the 2,100-acre Anne Springs Close Greenway, which is one of the most precious natural resources in the region.
Above all, it's a time to Get Your Selfie Outside - pulling yourself away from your daily routine and enjoy the benefits of getting outside in the fresh air and connecting with nature.
Check out our Choose Your Own Adventure passport, take the 25th Anniversary Hiking Challenge, enjoy one of our many guided hikes, kayak programs and animal encounters or just revel in the beauty of our 2,100 acres of protected green space. Want to make your celebration bigger? Consider a donation to our $25 for 25 year campaign.
A Message from Anne Springs Close
For 25 years, the Anne Springs Close Greenway has connected people to nature through education and recreation.  Enjoy this reflection on the Greenway's 25th anniversary from Ms. Close, our founder and namesake.
Choose Your Own Adventure
We want you to choose how you celebrate the Greenway! We've come up with 25 activities to help you celebrate our space and this great big world.
Complete all the activities for some fun fun prizes!
25th Anniversary Hiking Challenge
See nearly all 2,100 acres of the Greenway on our 25th Anniversary Hiking Challenge. Complete all 26 trails in the Trail Passport for bragging rights and some cool surprises!
$25 for 25 Years for the Greenway
We're challenging our members to support the Greenway with a $25 donation, creating the potential to raise $300,000. If each Greenway family donated $25 they could make a lasting impact on the Greenway during this 25th anniversary year!
25th Anniversary Photo Contest
Do you love to take pictures at the Anne Springs Close Greenway? The Photo Club invites all amateur photographers to show us your work in our annual photo contest.
More Ways to Choose Your Own Adventure!
We have a number of activities planned for the whole month!  Come love being on the Greenway!
Making a green plan at home is easy! Select a few items that work for your family and start implementing them in your home. Even the smallest changes can make a big difference!
Create A Green Plan
As summer transitions to fall, the night sky is a wonder behold. These apps are great sources for stargazing:
Sky View Lite | Star Chart | International Space Station | Star Tracker
Here are some tips:
Ask the Greenway horses about the millstone.
Mill Pond trail might be a good place to start. 
Have you seen our replica grist mill? 
The Greenway Birding Club invites you to pick up pair of binoculars and explore all the birds found on the Greenway!
Download Checklist
Thank You To Our Partners