Giving Tuesday: November 27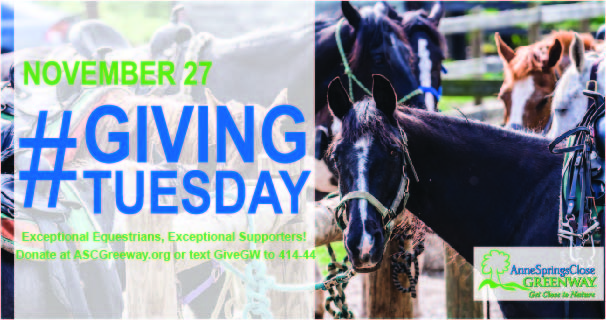 In a season of giving it's easy to lose our focus. Created in 2012, #GivingTuesday is a global giving movement that has been built by individuals, families, organizations, businesses and communities in all 50 states and in countries around the world.
This year, #GivingTuesday falls on November 27. #GivingTuesday transforms how people think about, talk about, and participate in the giving season. It inspires people to take collective action to improve their communities, give back in better, smarter ways to the charities and causes they believe in, and help create a better world. #GivingTuesday demonstrates how every act of generosity counts, and that they mean even more when we give together.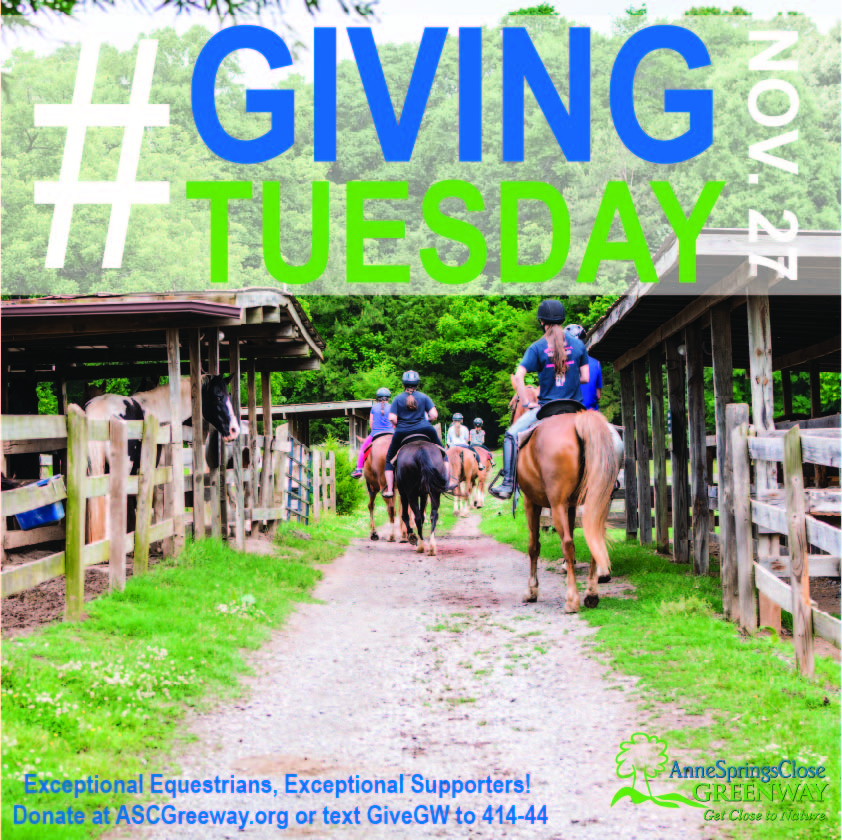 Will you consider supporting the Greenway's Equestrian Program on November 27? Click here to give online or text GiveGW to 414-44.
The Greenway Stables is a family-friendly working horse farm, owned and operated by the Anne Springs Close Greenway in Fort Mill, South Carolina. Situated on over 2,100 acres featuring 12 miles of equestrian trails, the Greenway Stables is a true area treasure. Choose from guided trail rides, private and group riding lessons, lead line horse rides and more.
What can your gifts support? 
$250: 
One junior saddle
Helmets for six riders
$500: 
One horse for our therapeutic Exceptional Equestrian riding program
One adult saddle, saddle pad, bridle, halter, lead rope and shoes for one horse
Shoes for one horse for a year
$1000
Shoes for two horses for a year
Feed for two horses for a year
 Feed for 20 horses for a month
Four junior saddles (lessons or Exceptional Equestrians)
Wormer for the 55 horses for a year (we worm the horses 4 times per year and a tube of wormer on average is $4.75 per tube)
  $2500  
Feed for 50 horses for a month
Shoes for five horses for a year
Tack (riding equipment) needed for five horses (saddle, saddle pad, bridle, halter, shoes)
Feed for five horses for a year
$5000  
Feed for 50 horses for two months
Feed for 10 horses for a year
Shoes for 10 horses for a year
Tack needed for eight horses plus helmets and belts needed for riders in our therapeutic Exceptional Equestrians riding program
$10,000
Feed for 50 for four months
Feed for 20 horses for a year
Shoes for 20 horses for a year