Greenway Celebrates 25th Anniversary Year with Big Fundraising Challenge
$25 for 25 Campaign Looks to Activate Greenway's Large Member Base
to Help Offset Annual Loss of Nearly $1MM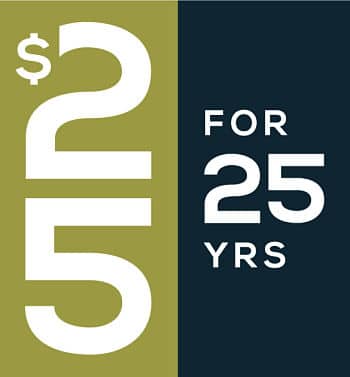 $25 seems like a pretty nominal amount these days – you spend it in a drive-thru or in a quick click to a campaign, and now the Anne Springs Close Greenway is asking you to consider donating $25 to their non-profit organization. The nature preserve located in Fort Mill celebrates its 25th anniversary this year and in doing so has issued a challenge to its members and the public at large – donate just $25 for 25 years of incredible access to greenspace and the assurance of knowing that it will be here forever. Donations raised on behalf of the $25 for 25 campaign will help to offset annual operating costs incurred by the Greenway, who in 2019 reported a net loss from operations of over $1.7MM.
"The Greenway's annual operations run at a deficit of over $1MM," says Samantha Kowert, Advancement Director for the Anne Springs Close Greenway. "We are fortunate to offset that loss with funds from our endowment, as well as through the generosity of corporate and individual donors, but it is really our members who value the Greenway the most – and we challenge them to show their support by giving back to this local treasure during this anniversary year."
With a $25 donation, the Greenway's membership base has the potential to raise over $300,000. Through the end of this year, the public is encouraged to show their support for the Greenway by pledging $25 or more to the giving campaign.
"Is raising $300,000 an ambitious goal? It sure is. But, so was protecting 2,100 acres in the middle of Fort Mill 25 years ago," explains Brian Myers, the Greenway's Advancement Manager. "By supporting the Greenway, you help make possible the hundreds of native wildflowers on property, the more than 300 families that benefit from the Leroy Springs & Co. Bridge Program, the preservation and stewardship of dozens of acres of meadows and prairies, and the protection of the Steele Creek watershed. Our strength is in our numbers. Our members, our community, our Greenway."
The Anne Springs Close Greenway is a 501(c)(3) nonprofit organization. Gifts from donors and members help the nature preserve to continue to share its mission of connecting people to nature, while caring for the Greenway's 2,100 acres and serving as a community leader in recreation and conservation programming. For more information or to give to the $25 for 25 campaign, click here.
About the Anne Springs Close Greenway
Since 1995, the Anne Springs Close Greenway has provided a place for the community to enjoy a variety of outdoor activities from fishing, hiking, mountain biking and horseback riding to picnics, kayaking and more. The 2,100 acre nature preserve located in Fort Mill, SC is open daily from 7:00 a.m. to sunset for outdoor recreation enthusiasts and nature lovers to use its 36 miles of trails. The Anne Springs Close Greenway is owned and operated by Leroy Springs & Company Inc., a 501(c)3 organization that receives no government funding for its ongoing operations and programs. The Greenway relies on revenues from its endowment, membership and program fees, and private contributions from individuals, community and corporate partners, and other donors to fund operations and capital needs.
About Leroy Springs & Company, Inc.
For more than 75 years, Leroy Springs & Company, Inc. has provided affordable, quality recreation and community activities and facilities in the region home to the historic Springs Cotton Mills. Today, Leroy Springs is headquartered in Fort Mill, SC, and provides the next generation with similar recreation opportunities, including the Springs Golf course portfolio (Chester, Fort Mill, Lancaster, Springfield), the Anne Springs Close Greenway, and Springmaid Mountain (Spruce Pine, NC). Leroy Springs & Company, Inc. provides financial assistance for its recreation opportunities through the Leroy Springs Bridge Program, which awarded $186,000 in financial assistance in 2019. For more information, visit LeroySprings.com.