Greenway Names Historic Dairy Barn in Honor of Longstanding Partnership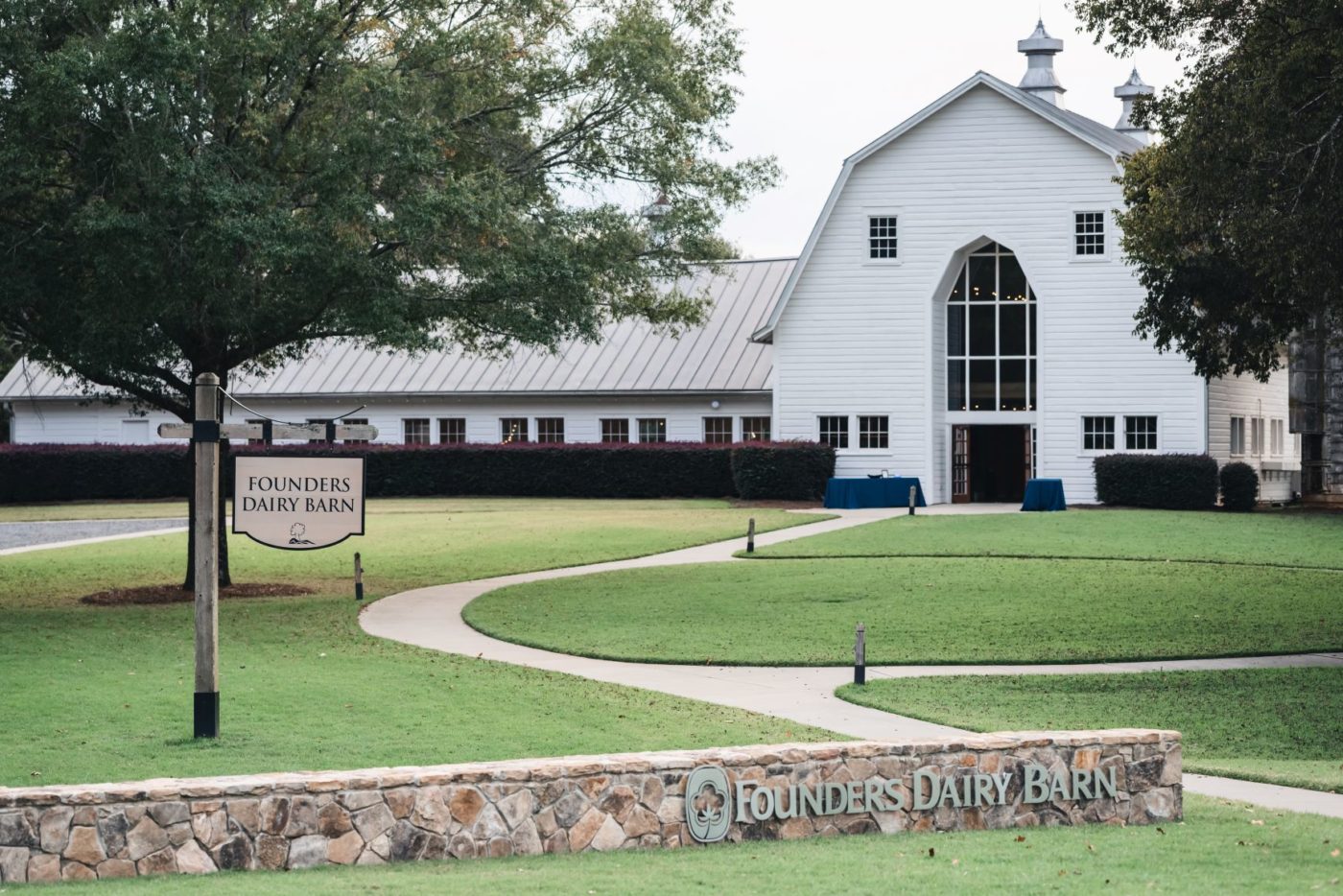 Founders Dairy Barn Recognizes Local Banking Institution's $5MM Commitment to the Greenway's Operations and Endowment
The Anne Springs Close Greenway Dairy Barn has a new name.The Greenway recently installed signage signaling a name change at the iconic local landmark now known as the Founders Dairy Barn, recognizing a $5MM commitment to the Greenway's annual operations and endowment fund from local banking institution Founders Federal Credit Union. The financial commitment from Founders FCU supports the Greenway's ongoing operations and endowment. Funds from the endowment assist in offsetting the Greenway's annual financial loss and provide funding for the Leroy Springs & Company, Inc. (LSC) Bridge Program, a financial assistance program for area individuals and families whose circumstances may qualify them for free or reduced membership and program costs.
"Partnering with the Anne Springs Close Greenway at the beginning of their Nature Needs You Capital Campaign was an easy choice for us," explains Bruce Brumfield, President and CEO of Founders FCU. "We are proud to honor the history that binds our organizations and that has stewarded the environmental future and landscape of the communities in which we live. Founders Federal Credit Union, our employees, our members and the local and surrounding communities as a whole are enriched by the Greenway and all it has to offer."
In 1996, the Anne Springs Close Greenway repurposed the iconic 1946 Dairy Barn from a working dairy barn to a unique event space. Originally built to service the Springs Cotton Mills' Cafeterias located in York, Chester and Lancaster counties, the Dairy Barn was transformed into one of the most sought after special event spaces in the greater Charlotte region. Known for its quintessential barn weddings and beautiful pastoral setting, the Dairy Barn has seen hundreds of weddings and events through the years and is among the most recognizable places on the Anne Springs Close Greenway and throughout York County.
"The Anne Springs Close Greenway is a protected community resource, not just through the conservation easement placed on the land, but also due to the incredible financial support received from local residents, organizations and businesses," explained Tim Patterson, President & CEO of Leroy Springs & Company, Inc., a 501(c)3 non-profit organization that owns and operates the Anne Springs Close Greenway. "Sharing a common heritage as legacies of Springs Industries as well as meeting the needs of our community, the Greenway's ability to sustain our operations and programs into the future is due in great part to the financial commitment made by Founders, and we thank them for their continued support in providing that access for generations to come."
In anticipation of the announcement and as a result of this gift, several updates and enhancements have been completed to ensure the Founders Dairy Barn will remain among the region's most beloved event venues. A private ribbon cutting ceremony was also held on October 20th. More information about the Founders Dairy Barn and the Greenway's other special event venues at ASCGreenway.org./Venues.
About the Anne Springs Close Greenway
Since 1995, the Anne Springs Close Greenway has provided a place for the community to enjoy a variety of outdoor activities from fishing, hiking, mountain biking and horseback riding to picnics, kayaking and more. The 2,100 acre nature preserve located in Fort Mill, SC is open daily from 7:00 a.m. to sunset for outdoor recreation enthusiasts and nature lovers to use its 36 miles of trails. The Anne Springs Close Greenway is owned and operated by Leroy Springs & Company Inc., a 501(c)3 organization that receives no government funding for its ongoing operations and programs. The Greenway relies on revenues from its endowment, membership and program fees, and private contributions from individuals, community and corporate partners, and other donors to fund operations and capital needs.
About Leroy Springs & Company, Inc.
For more than 75 years, Leroy Springs & Company, Inc. has provided affordable, quality recreation and community activities and facilities in the region home to the historic Springs Cotton Mills. Today, Leroy Springs is headquartered in Fort Mill, SC, and provides the next generation with similar recreation opportunities, including the Springs Golf course portfolio (Chester, Fort Mill, Lancaster, Springfield), the Anne Springs Close Greenway, and Springmaid Mountain (Spruce Pine, NC). Leroy Springs & Company, Inc. provides financial assistance for its recreation opportunities through the Leroy Springs Bridge Program, which awarded $186,000 in financial assistance in 2019. For more information, visit LeroySprings.com.