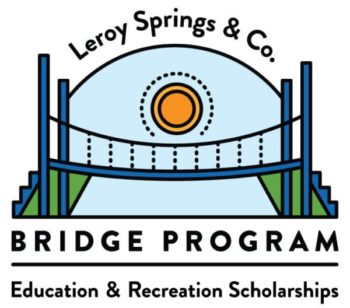 The Anne Springs Close Greenway is committed to connecting people to nature through recreational and educational activities that foster a passion for the outdoors. In an effort to make the Greenway accessible for all, the Bridge Program established by Leroy Springs & Co, Inc. mirrors the eligibility schedule outlined by the USDA Food and Nutrition Service income eligibility guidelines used in determining eligibility for free and reduced meals.
Programs that qualify for assistance include:
Greenway Membership (Individual & Family)
Greenway Summer Camps (ages 3-18)
Summer Camps at Springmaid Mountain
FLYERS Afterschool Program (K-5)
Group Equestrian Lessons
Adopt-A-Horse
Select Outdoor Recreation Programs
Other Select Educational Programs
How to Apply
Complete Scholarship Application Form
Provide copy of free and reduced lunch letter or
IRS Form 1040, 1040EZ, or transcript
Special circumstances beyond these requirements may be considered on a case-by-case basis.
Additional Information
We cannot approve an application that is not complete. Be sure to fill out all required information and provide requested documentation.
You will be contacted by email or phone within seven (7) business days of your application submission. 
For more information, please call 803.547.4575 or email Membership@ASCGreenway.org