The Greenway offers a variety of hands-on, interactive learning programs specifically designed to meet Common Core and subject-specific standards at grade level. Programs can be tailored to meet teachers' curricula and classroom instruction.
In this four-hour program, students receive an introduction to nature through hands-on, interactive activities and games. Students will learn about camouflage, the basic needs of animals, what makes a reptile as well as participate in nature yoga. This is a great initial outdoor program for younger students.
This two-hour program provides hands-on, interactive activities that will deepen students' understanding of daily and seasonal weather conditions. Students will use appropriate tools to measure weather conditions and experiment with wind. Cloud types and precipitation will also be covered.
In this four-hour program, students will explore the history of the Carolinas and the Fort Mill area through interactive and high-interest narratives and activities along the historic Nation Ford Road.  A minimum of eight chaperones is required to facilitate this information-packed adventure.
This three-hour program offers students hands-on experiments that teach them about erosion as well as the rock cycle. Students will also investigate what materials the Earth is made out of and what the human impacts are on these renewable and nonrenewable resources.
A variety of curriculum-based activities will have classes exploring different ecosystems along the Greenway in this four-hour, hands-on investigative program.  Students will be able to explore the forests and ponds in order to become one with their inner-ecologist.
This four-hour program offers students hands-on experiences with activities demonstrating how animals adapt to their environments in order to survive. Students will learn about animals basic needs, migration, limited resources, as well as the food webs & food chains. Each student will also have the opportunity to dissect an owl pellet during the owl adaptation rotation.
Visit the site of the original gristmill for which Fort Mill was named.  This two-hour program includes a guided hike to the site of the milldam, a working 12-foot water wheel and an interactive history lesson that will transport your students back in time.
Students will develop an understanding of the life cycle through various hands-on interactions along the Greenway.  This two-hour program examines the life cycle of insects, plants and macroinvertebrates through either a stream study, guided hike or rotting log activity.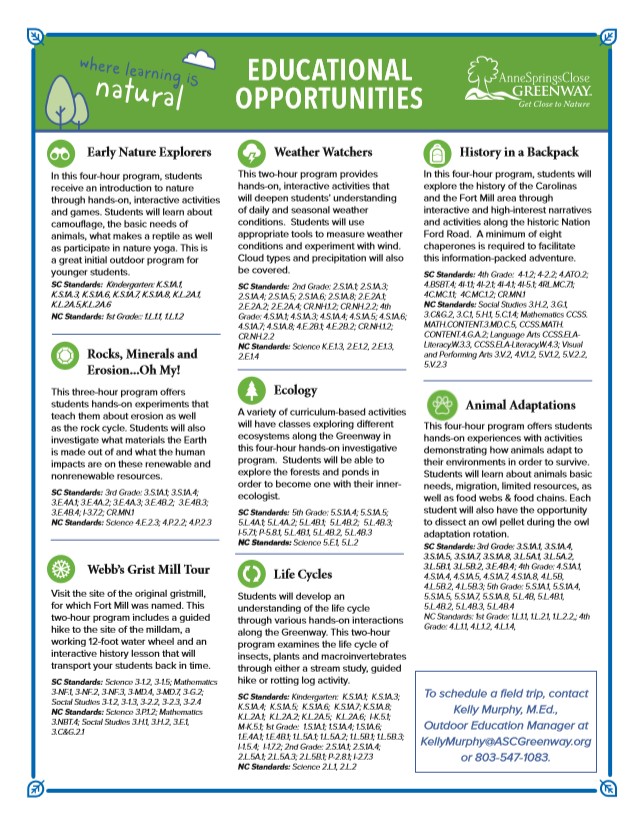 For more information on the Greenway's educational opportunities, please contact Kelly Murphy, M.Ed., Outdoor Education Manager at KellyMurphy@ASCGreenway.org or 803-547-1083.