Leroy Springs & Company, Inc. (LSC) Names New Chief Operating Officer
John Gordon to Assume Responsibility for All LSC Operations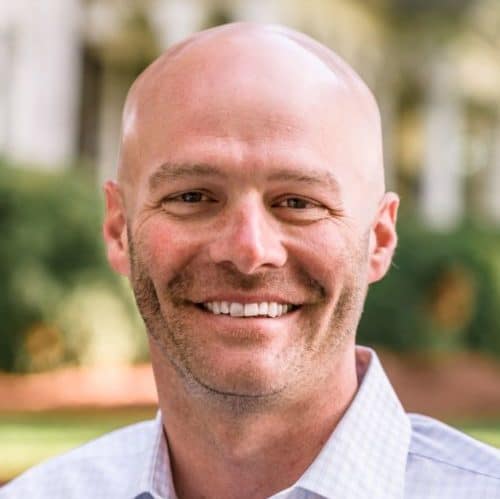 The Board of Directors of Leroy Springs & Co., Inc. (LSC) has announced the promotion of John J. Gordon to the position of Chief Operating Officer of Leroy Springs & Co. John remains the Executive Director of the Anne Springs Close Greenway.
Since joining the Greenway in 2017, John has overseen major projects including the construction of the Greenway Gateway, Domtar Forest Porch, and multiple facility renovations. Under his leadership, summer camps, afterschool programs and recreations events & programming have been reevaluated and reimagined to meet the changing needs of the community as it deals with the stresses of exponential growth and pandemic. Elliott Close, Chairman of Leroy Springs & Co., said that "John's performance over the last three years has earned the Board's confidence. His leadership has been critical in ensuring the Greenway has remained relevant through COVID-19, one of the most chaotic times any of us could have imagined. His work has continued to advance our mission in providing quality, affordable recreation to our community."
A graduate of Winthrop University, John is a native of Clover, SC and has deep roots in the region. John's organizational expertise is driven by more than 15 years of operational and leadership experience at some of the area's most respected recreation facilities including the U.S. National Whitewater Center, YMCA Camp Thunderbird, and as the Executive Director of YMCA Camp Cherokee. This experience prepared him to assume his present responsibility as the Executive Director of the Anne Springs Close Greenway three years ago, solidifying John's position as a regional leader in outdoor education and recreation.
As the Chief Operating Officer of LSC, John will assume responsibility for all LSC operations, with FLYERS Afterschool, Springs Golf and Springmaid Mountain reporting to him in addition to his existing responsibilities. John will continue to report to Tim Patterson, the President and CEO of LSC.
About the Anne Springs Close Greenway
Since 1995, the Anne Springs Close Greenway has provided a place for the community to enjoy a variety of outdoor activities from fishing, hiking, mountain biking and horseback riding to picnics, kayaking and more. The 2,100 acre nature preserve located in Fort Mill, SC is open daily from 7:00 a.m. to sunset for outdoor recreation enthusiasts and nature lovers to use its 36 miles of trails. The Anne Springs Close Greenway is owned and operated by Leroy Springs & Company Inc., a 501(c)3 organization that receives no government funding for its ongoing operations and programs. The Greenway relies on revenues from its endowment, membership and program fees, and private contributions from individuals, community and corporate partners, and other donors to fund operations and capital needs.
About Leroy Springs & Company, Inc.
For more than 75 years, Leroy Springs & Company, Inc. has provided affordable, quality recreation and community activities and facilities in the region home to the historic Springs Cotton Mills. Today, Leroy Springs is headquartered in Fort Mill, SC, and provides the next generation with similar recreation opportunities, including the Springs Golf course portfolio (Chester, Fort Mill, Lancaster, Springfield), the Anne Springs Close Greenway, and Springmaid Mountain (Spruce Pine, NC). Leroy Springs & Company, Inc. provides financial assistance for its recreation opportunities through the Leroy Springs Bridge Program, which awarded $186,000 in financial assistance in 2019. For more information, visit LeroySprings.com.