Partnership with Atrium Health Allows the Anne Springs Close Bridge Program to Bring More People to Nature
The Anne Springs Close Bridge Program, a tiered financial assistance opportunity, allows the Greenway to connect more people to nature. Thanks to an annual gift from Atrium Health, the Greenway can provide greater awareness and support for the Bridge Program.
Since 2018, the Bridge Program has awarded recreational and educational programming valued at more than $1MM, and Atrium's gift represents an annual partnership spanning more than a decade.
While community members of all ages may apply for financial assistance through the Bridge Program, the Greenway largely grows Bridge Program awareness through its fieldtrip groups and school partners. More than 4,000 children from across the Charlotte metro region participated in Greenway fieldtrips and educational outreach programs from January to June 2023.
All Bridge Program recipients receive an annual ASCG family membership, in addition to other free or reduced-price programs, which even includes summer camps.
"By strengthening relationships with our area schools, the Anne Springs Close Greenway seeks to expose more children to the wonders of nature, cultivating the next generation of conservationists and inspiring continued support for the outdoors," said Sara Lee, Operations Assistant Director for the Greenway.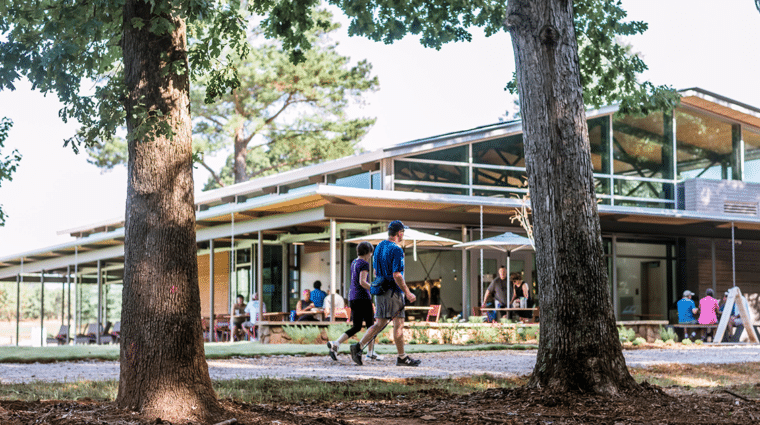 Atrium's support elevates the Greenway's ability to tell the story of the Bridge Program while furthering its mission to bring people to nature through education, recreation and conservation. The mission closely aligns with Atrium's organizational mission of reaching vulnerable communities.
The Anne Springs Close Bridge Program is available to applicants year-round through the organization's website. To inquire about corporate partnership opportunities, please email Shea Maple, Senior Advancement Manager.