Race Across the Sky at the Leadville 100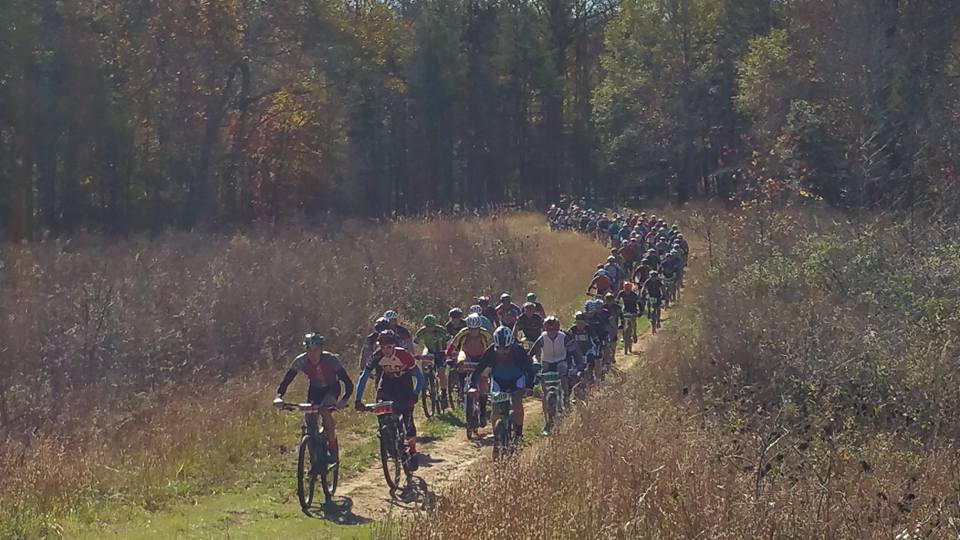 When Greenway members Nathan Peterson and JR Ackerman submitted their registrations to the Leadville Trail 100 Mountain Bike Race lottery at the end of 2018, they had no expectations of riding anytime soon. Nathan had plenty of friends who'd been vying for a spot for years, so entering the lottery was more for fun than any serious notion. Imagine the shock when they received an email in January of this year telling them they would be riding in August 2019!
The Leadville Trail 100 Mountain Bike Race is the 2nd oldest, 100-mile mountain bike race in the US. On August 10th, 1,800 cyclists will descend upon the small, former mining town of Leadville, Colorado. The Race Across the Sky (as it's informally known) will test the endurance of each cyclist trekking up the Rockies to an elevation of 12,424 feet in under 12 hours.
Nathan and JR are hoping to be among those meeting that challenge and taking home a coveted silver belt buckle. We sat down with them recently to learn how they made the leap from riding the trails on the Anne Springs Close Greenway to taking on a race the likes of the Leadville Trail 100 Mountain Bike Race.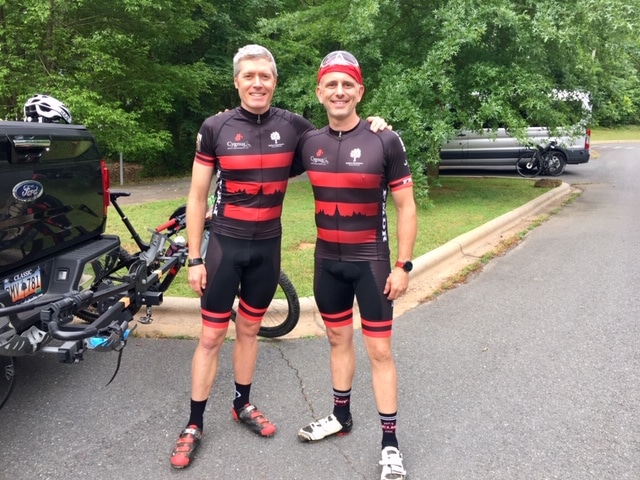 Q: Give us a little background on your mountain biking experience.
Nathan: I started endurance racing about 10 years ago. It started with a half-marathon raising money for melanoma research after the death of my father-in-law and just morphed into more 5ks and 10ks and half-marathons. From there, at the urging of my business partner, I started doing triathlons. It was a way to represent our business, Cygnus Asset Management, and still raise money for melanoma research. Eventually, I fell into longer endurance events and Half-Ironmans and that's really been my specialty. Friends kept telling me I needed to get a mountain bike for winter training, so I bought my first one about 18-months ago.
JR: My path was a little different. I've always been a backpacker and hiker. From there, I moved into kayaking and whitewater kayaking at the US National Whitewater Center. I'd never been on a mountain bike before but literally came off the water one day, went to a friend's house, clipped into a mountain bike and rode a six-mile trail in his backyard. I rode all day and fell in love with it. About a month later, I bought my first mountain bike and went to the Greenway. I've spent the last 10 years riding out here. Formal cycling (and the gear) was never in my plan, but I came out to watch a summer series race at the Greenway and jumped right into racing. I rode the local races and eventually built up to rides in DuPont (State Recreational Forest) and later out west.
Q: What makes the Greenway a special place to ride?
Nathan: For me, convenience is a biggie but I ride alone a lot. Riding for me is very spiritual, therapeutic and meditative. I get out and it recharges my batteries. Just being in the woods – you can ride deep into the back of Paradise (Loop) and not see anyone for a while and it's just beautiful. The Greenway is very challenging and has some fun trails to try to make yourself better. I'm definitely more of a triathlete/roadie so I have a lot of room to improve from a technical standpoint.
JR: [The Greenway] is like my backyard. I definitely try to come out here and beat my times. Can I make it around three times in two hours; can I touch every piece of trail in this amount of time? I also love bringing my kids out here and getting them into the sport. It's the first place I started riding, and I can remember a day when I couldn't do five miles out here. To look back over how I have grown in cycling, and I'm not as good as some other people, but the Greenway has contributed to pretty much every piece of where I am today.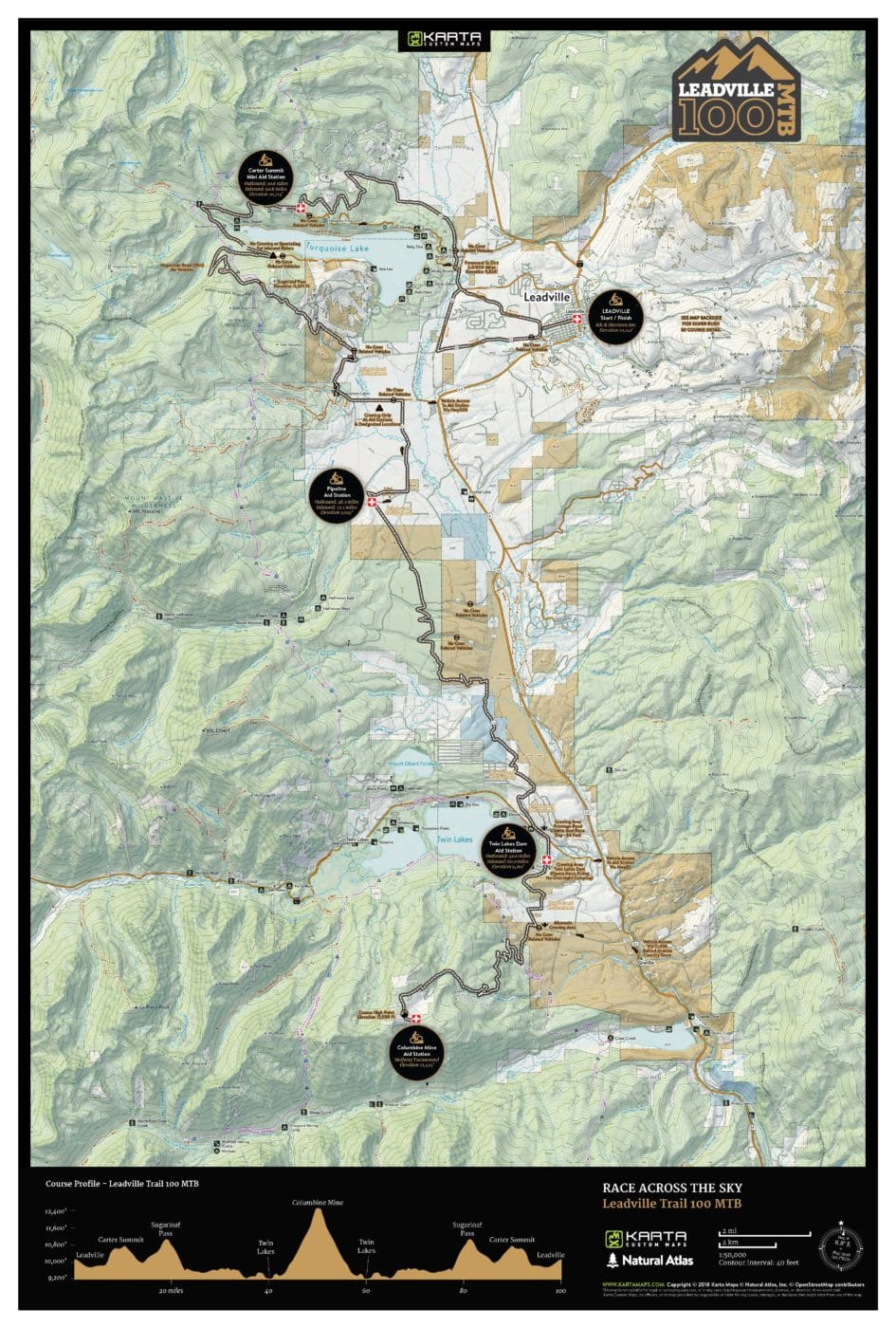 Q: What does competing in the Leadville 100 mean to you?
Nathan: I tend to fall in love with the races people love to dream and talk about doing. Leadville has an allure and mystique about it. It's the race people come from overseas to compete in. It's the one Lance Armstrong raced which made it even more popular. It's a notch in your belt. If you do it, and finish it, and get that buckle, it's an experience of a lifetime.
JR: It's just another challenge. It's pushing your body to that 60%, not realizing you still have 40% to give. It's setting a goal or standard for yourself and being able to meet it. I've thought about Leadville a lot, and it's almost like a discipline or trial for yourself. I can use this discipline that I have in training for this race in so many other areas of my life. If you can discipline yourself to make it these 12 hours or even attempt it, you can use that in other areas of your life too.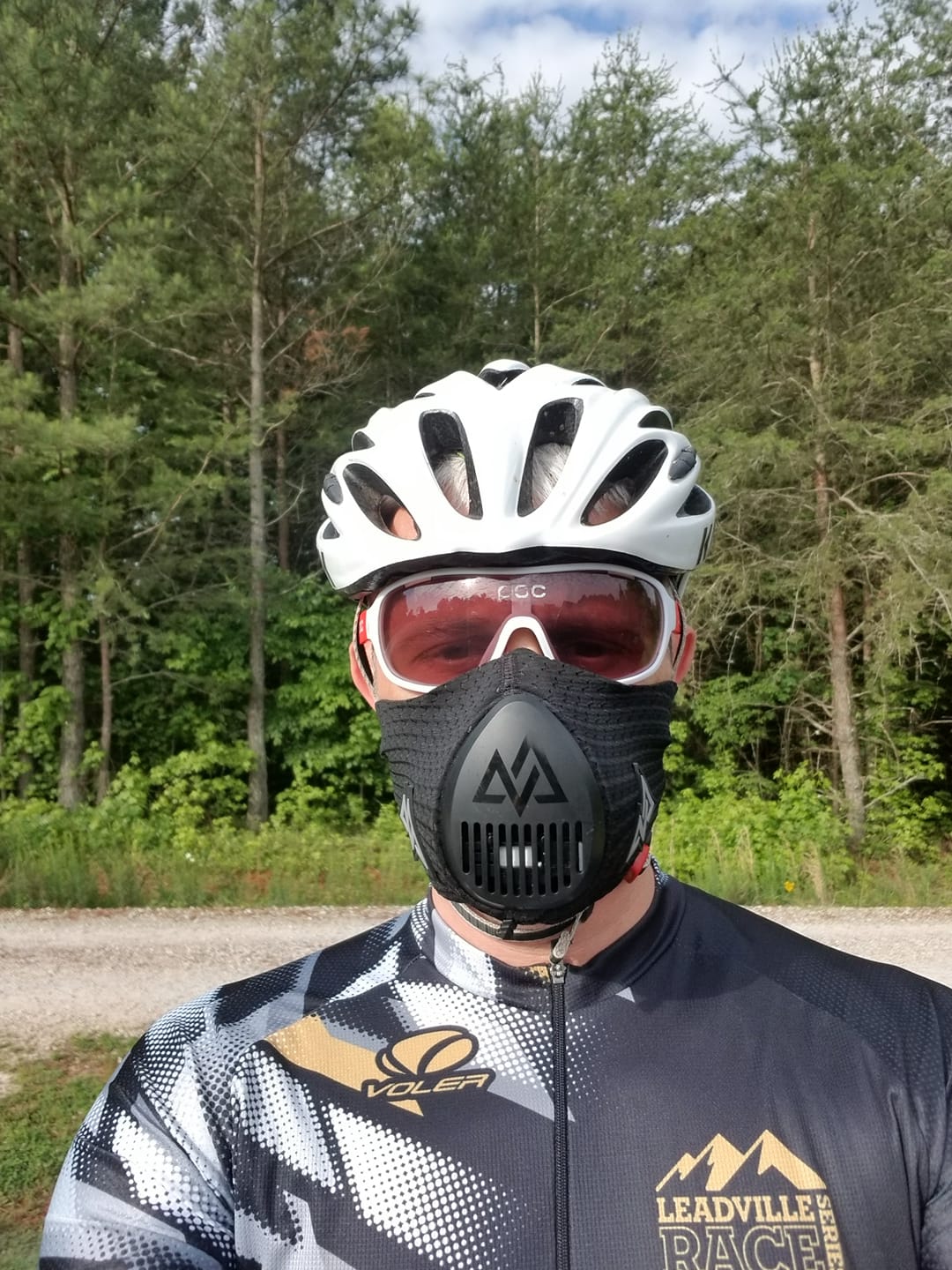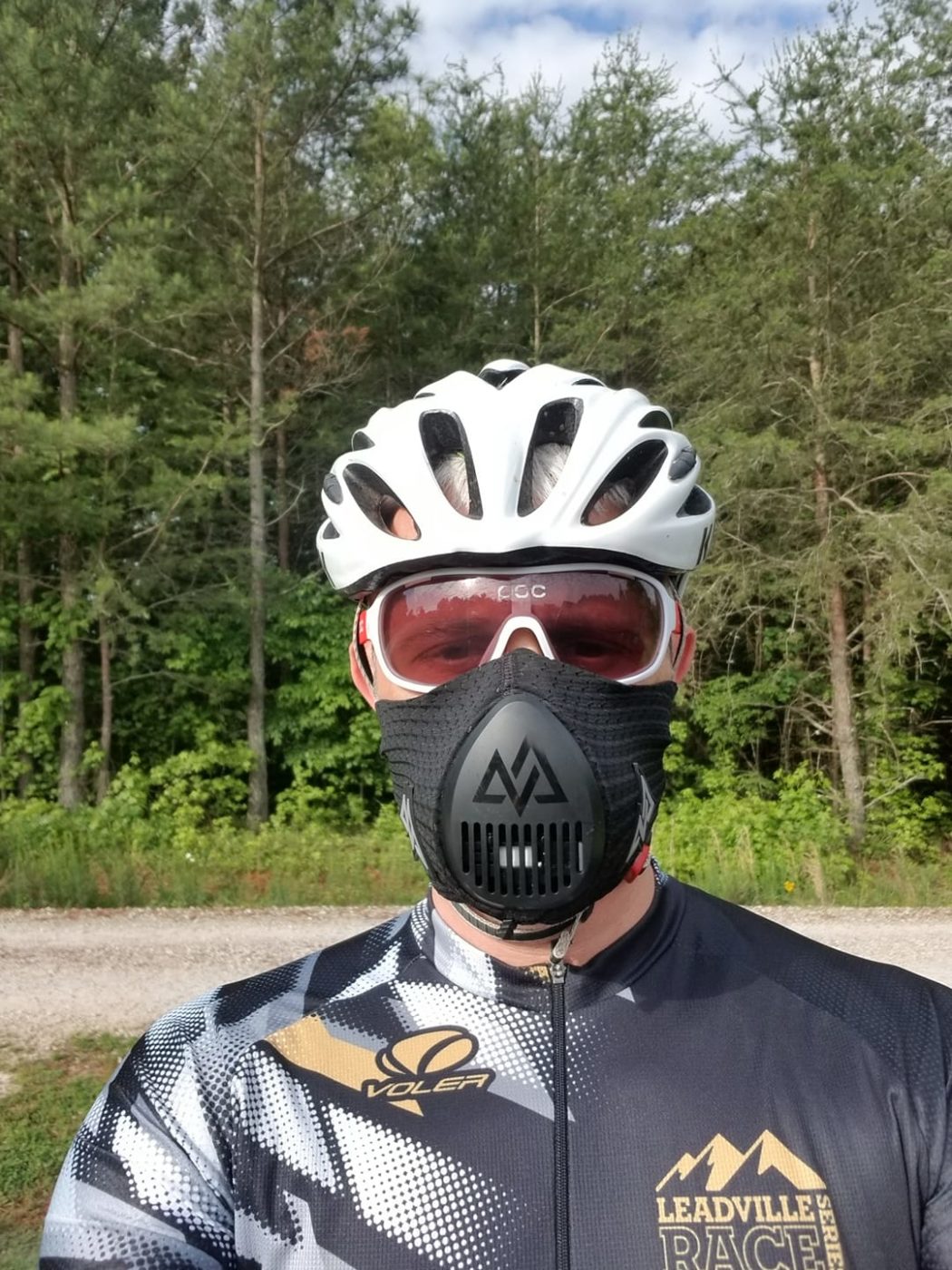 Q: How do you train for this type of event?
Nathan: We've got a pretty good training plan put forth and are getting a lot of mileage in. Both JR and I are pretty acclimated above 10,000 feet, but it's definitely a different feeling when you're exercising. You do a lot of hard workout intervals that train your body to have a stronger VO2 max.
JR: I'm utilizing an elevation mask but I have no idea if it will make or break the race for me. I think it will make some difference but I'm really just trying to eat right and build my endurance engine . I'm just trying to get on the bike and ride, whether it's power on the mountain bike or miles on the road bike. It's a lot different from the sprint races I'm used to. It takes me a few hours to pack in food in the morning. I'm trying to get up eat something right away, put something in my pocket, get on the bike, eat 15 minutes later, eat something 10 minutes later. I'm just not accustomed to that. One of my challenges will be getting the food in before it's too late.
Q: Can you quantify how many hours or miles you're training?
Nathan: Because we are business owners, husbands, and fathers, most of our training is done very early in the morning and in between appointments. Monday through Friday we're getting workouts in that last anywhere from an hour to two-hours long; Saturdays and Sundays we're doing three and four-hour block rides and that's just going to continue to go up. We're still on the early side of training so on average, we're probably getting in 200 miles a week. That will probably go up another 100 miles as we get closer to the event.
JR: I feel like I'm training almost every day; I'm here but my mind is in Leadville thinking about the course, the ride, everything. "Am I eating this right? Am I not eating this right? Do I need to go to sleep? Should I rest today? Should I not rest today?" It's constantly back and forth. I guess that's just the eagerness.
Q: What is your "must have" for you to be successful in an event?
Nathan: All my triathlon buddies would probably be snickering at me because I'm very detail oriented and regimented down to what I eat the day before, to the timing of all that I eat the day of and the nutrition. If there's one thing I have to have, I really just need my routine.
JR: I'm trying to figure out how to get my good music with me. Pandora is going to lose signal somewhere along the way. I kind of just throw my stuff in the bag and go and keep it pretty simple.
Q: What are you looking forward to the most on the route?
Nathan: I think there will be a smile when we get to the top of Columbine and there will be a smile at the top of Powerline, which will probably be worse than Columbine. At that point you've got 80 miles in the legs and then you're asked to climb the steepest part of the race. The crowning moment for me, though, has always been when I get to the finish line and see my wife.
JR: I'm ready to see how my body performs, and I'm excited to see Columbine. We won't be able to stay up there long but I'm just really excited about the ride and the scenery. From the videos and pictures I've seen, it looks beautiful. It's going to be tough not paying attention to it during the race.
Q: The Leadville 100 isn't necessarily a goal for your casual cyclist. What tips would you give to new riders wanting to get more comfortable with mountain biking?
Nathan: Have a discussion with your local bike shop or talk to a friend. There's always someone you know who mountain bikes; that's who should bring you out to the Greenway and get you on the easy trails. I tend to be a "heads first" kind of person and I think the Greenway is a great place to get started. My first mountain bike wheels down were on the Greenway, and I still appreciate the rides I do out here.
JR: Talk to people who are already riding. Talk to the local bike shops and get a feel for it. Don't go out and buy brand new stuff right away. Talk to a reputable shop that have people who will tell you the good and bad. Come out to the Greenway. Don't start at the Complex side, come to Adventure Road. Do a few miles and just get out there and enjoy it.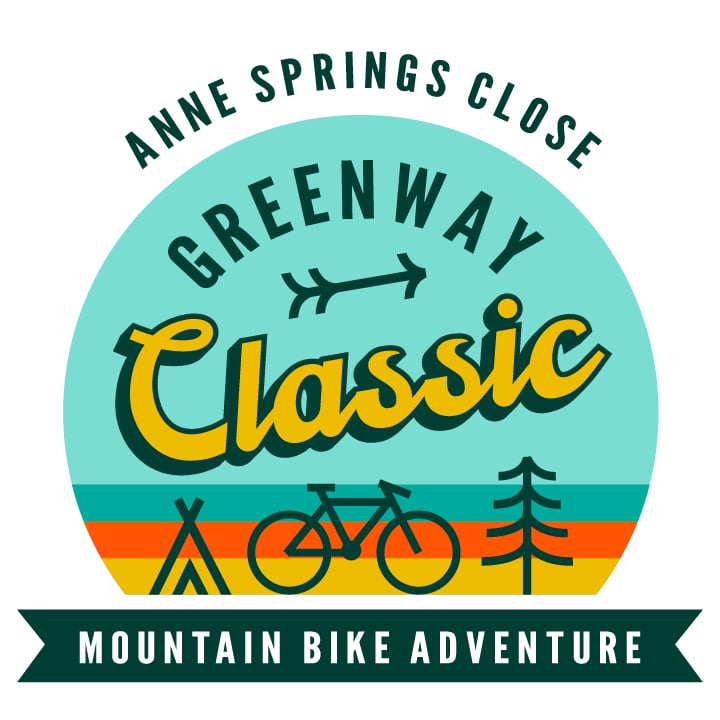 Want to get involved with Greenway mountain biking? Join Nathan and JR and hundreds of others of mountain bike enthusiasts, for the inaugural Greenway Classic Mountain Bike Adventure! Held June 7 – 9, this three-day mountain biking event will offer a 25 or 50-mile challenge and chance to ride some of the Greenway's non-MTB trails. Visit ascgreenway.org for more information.