Support Nature Play with the Greenway's Schroering Forest Playground
Stomping. Splashing. Laughing.
In every season, the Anne Springs Close Greenway is a symphony of sounds. Squirrels chatter at families exploring trails, and campers splash in the creek like frogs escaping the heat.
In 2024, the Greenway will open a new playground to further engage its youngest guests. The Schroering Forest Playground will offer a natural play environment that both members and visitors may use throughout the year.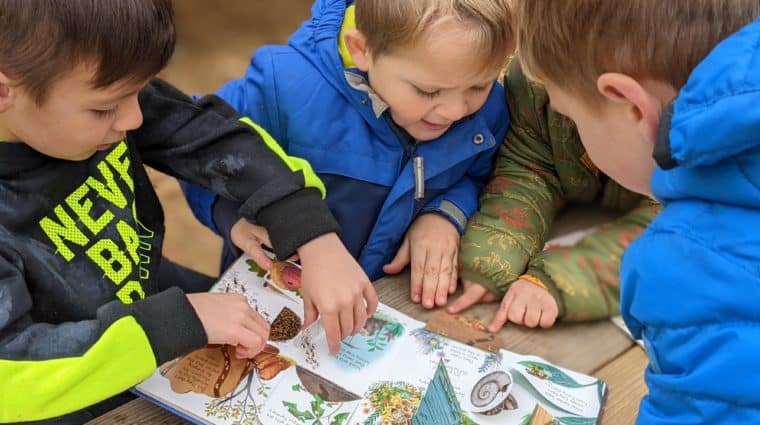 Children on the Greenway
Tens of thousands of young adventurers visit the Greenway annually. In addition to daily visitors and households with family memberships, the Greenway serves more than:
3,000 summer campers
60 nature-based preschool students
85 Afterschool on the Greenway participants
6,000 field trip attendees
Exciting events and programs, including but not limited to summer concerts, outdoor birthday parties and horseback riding lessons, pull children away from their screens and into nature.
The Greenway's Mission
The Greenway is passionate about welcoming children to the outdoors. The nonprofit's mission is to connect people, even young ones, to nature through recreational and educational activities while fostering a passion for conservation.
The completion of the Schroering Forest Playground will further the Greenway's mission by uniting families with outdoor recreation opportunities for all ages.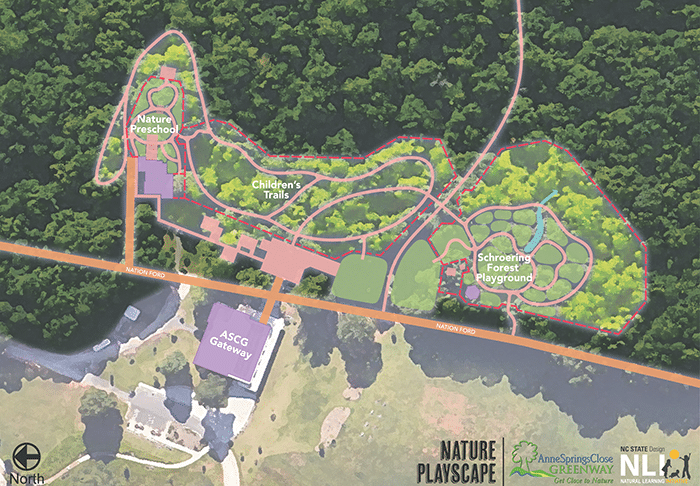 Constructing Opportunities
Thanks to vision and funding from private donors, Marty and Vesime Schroering, Greenway staff worked with the Natural Learning Initiative (NLI), to plan a natural play space specially designed to:
Activate sensory skills
Foster creativity and problem solving through free play
Reduce stress
Increase physical activity
Develop confidence in the outdoors
Improves cognitive abilities, including but limited to academic performance and social emotional intelligence
Facilitate outdoor learning.
The Schroering Forest Playground will include a central feature and climbing structure for older children, a corresponding structure for younger guests and a primary pathway that is ADA-accessible to ensure visitors of all ages and abilities can enjoy the playscape.
The Greenway procured structures from German play equipment designer and constructor, Richter Spielgeräte via APE Studio, Inc., US partner of Richter Spielgeräte. Richter Spielgeräte focuses on safety, stability, environmental friendliness, play value and high-quality wood. The company handcrafts the wood, which is sourced from Austria.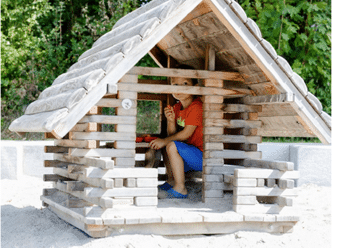 The Greenway ordered six play structures from Richter Spielgeräte. The one- and two-story timber houses provide a meeting point to foster social interaction, and the climbing structure invites gross motor development.
The sound arch and dendrophone structures encourage listening and harmonious play while the versatile snail structure encourages countless creative play opportunities. The structures appeal to a variety of ages and will provide ongoing opportunities for sensory and social development.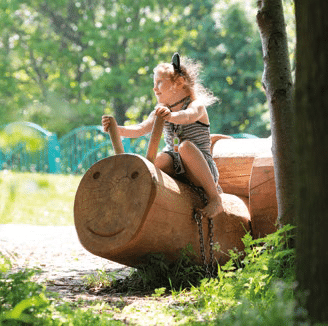 Additional activity settings will include a main entrance, gathering spaces for groups of various sizes, pathways, a covered gathering space, as well as the following:
Fairy trail
Shrub maze
Ephemeral art opportunities
Natural construction area for forts and larger creations
Mud kitchen
Earth play, clay play and "Waterplay" areas
Dry stream bed
Toddler play garden
Forest Adventure Play for free exploration
All structures will connect additional guests to the outdoors. The entire playground will adhere to playground safety standards, and for additional care of young guests, Greenway staff will install border fencing.
Construction of the project will begin with a phased approach, beginning with the playhouses and climbing structure, as well as fencing and other necessary infrastructure. Project completion date has not yet been set.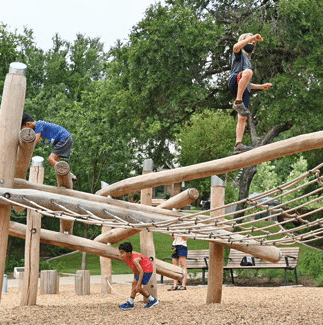 Next Steps
The Greenway is grateful for the generous financial support of Marty and Vesime Schroering. The Schroerings generously funded the playscape, which includes the central climbing structure, in addition to the acoustic play area and playhouse. Additional funding will support construction and benefit maintenance.
To further the Greenway's mission, please consider donating to one or more of the following:
ADA Accessible Trail
Large structures
Additional areas and elements
Playground maintenance.
The Greenway appreciates its donors, volunteers, members and guests. Please reach out to Shea Maple with any questions about how you or your business can support the Greenway's priceless mission.